Remembrance: Rick Ratcliffe
Engineering Pioneer

Alfonso F. "Rick" Ratcliffe, who served as dean of the College of Engineering and Computer Science for more than a decade in the 1980s and early '90s, died on Nov. 27, 2020. He died of complications from a stroke he had suffered earlier in November.
Ratcliffe had joined CSUN's Department of Electrical and Computer Engineering in 1975, and he was appointed chair in 1978. He rose to become the college's associate dean in 1980 and then dean in 1981. He retired in 1992, when the university granted him emeritus status. One of the first Black deans of a non-HBCU engineering school in the nation, he was considered a role model for many young scholars aspiring to a career in engineering, particularly those interested in teaching or research.
During his tenure as dean, Ratcliffe was instrumental in the success of the college's Minority Engineering Program, as well as building relationships with industry partners. He remained involved with the college during his retirement and served as a member of its Industry Advisory Board until recent years.
"We expect [students] to go out of here ready to start producing a product the day they walk out," Ratcliffe said in an interview during his time as dean. "We want them to understand the fundamentals of their chosen field."
Among his many groundbreaking accomplishments, Ratcliffe was responsible for hiring more women into CSUN's engineering programs than all other CSUs combined.
"I did not have the privilege to personally meet Dean Emeritus Ratcliffe, but he is remembered fondly in the college by those who knew him," said Houssam Toutanji, dean of the College of Engineering and Computer Science. "He definitely has left an indelible mark, not only positively impacting the academic achievements of underrepresented students during his tenure as dean, and contributing his knowledge and experience with the college during his retirement, but also, upon his passing, leaving a lasting legacy that will impact students for years to come."
Ratcliffe distinguished himself as an engineer, scientist, consultant and educator. He was known for his ingenuity, versatility and analytical ability. He grew up in St. Louis, where schools were still segregated, and moved to Los Angeles to live with an aunt and attend college. After earning a bachelor's degree in physics from UCLA, he also went on to complete a master's and a doctorate in engineering from UCLA. His academic areas of interest included control systems theory, dynamics and applied mathematics.
In an interview, Ratcliffe once noted that he had wanted to build bridges since he was a boy, but because engineering jobs were "something rare" for Blacks at that time, he spent several years after college doing other jobs. His early engineering work included time as a test engineer at Rototest Laboratories. From 1969-74, before turning to teaching, he worked in design and manufacturing at Mattel, Inc.
Ratcliffe was preceded in death by his wife, Dolores.
---
FACULTY & STAFF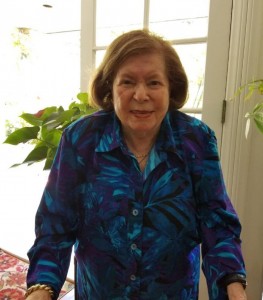 Anna Bruni Benson (Modern and Classical Languages and Literatures, pictured at right), former head of the Italian program at San Fernando Valley State College (now CSUN), died on Nov. 7, 2020, at home in Brentwood. She was 94.
In 1968, Benson took the helm of Valley State's Italian program, where she developed a minor in Italian and theatre, staging seven plays in Italian with her students. These included "La Mandragola" by Machiavelli and "La Locandiera" by Venetian playwright Carlo Goldoni.
Originally from Venice, she attended the Ca' Foscari University of Venice, where she earned a doctorate in foreign languages and literatures. Benson moved to Los Angeles in the late 1950s, where she completed a master's in Italian and a doctorate in Italian, French and Spanish languages and literatures (with a major in theatre), all from UCLA.
In addition to teaching, Benson published books on Italian desserts, a book of poetry and a cookbook devoted to "The Italian Vegetable Garden."
She married theater, film and TV director John Brahm, whom she met when he was directing "The Thief of Venice" on location. The couple moved to Malibu, where they raised two daughters, Mara Lee and Carol (Sumishta). After the couple divorced, she moved to Laurel Canyon. In 1962, she married Los Angeles Times art critic Henry J. Seldis. The couple soon welcomed a son, Mark. Henry Seldis passed away in 1978. Several years later, Benson met and married Sidney W. Benson. They moved to Brentwood, where Anna continued to live after Sidney died in 2011.
Benson was a passionate skier and gardener, and she was devoted to animals — especially her cats.
She is survived by her daughters, Mara Lee and Carol (Sumishta); her son, Mark; two grandchildren and four great-grandchildren.
Warren Akira Furumoto (Biology), a professor emeritus of biology and early advocate for CSUN's Educational Opportunity Program (EOP) and Department of Chicana/o Studies, died on Jan. 5, 2021, of COVID-19. He was 86.
Furumoto was born in Hawaii, where he developed a love of nature and lifelong passion for the culture, history and lands of Native Hawaiians. He was just 7 years old when Japan bombed Pearl Harbor, and he grew up during World War II in Hawaii. He earned a bachelor's degree in biological sciences from the California Institute of Technology in 1957, and a Ph.D. in botanical sciences from UCLA in 1960. He joined the faculty of CSUN's Department of Biology in 1962.
In his 45-year career at CSUN, he served as professor of biology, biology department chair, associate
vice president of academic services and director of the College of Science and Mathematics Center for Academic Preparedness. Furumoto also supported the establishment of EOP and the first two ethnic studies departments.
He was deeply committed to social justice, racial equity and serving the community throughout his career and during retirement. He founded and served as director of the first Head Start program in the San Fernando Valley, and he was especially proud of his work in the Unity Workshop in Pacoima and San Fernando, where he developed programs for at-risk youth with gang affiliations and from probation camps.
In 1973, Furumoto married Rosa Rivera. They settled in Sylmar, where they raised their two daughters, Kim and Li'i. He is survived by his former spouse, Rosa; their two daughters; son-in-law German; grandchildren Akira and Ahadiyya; his sister, Grace; and numerous nieces and nephews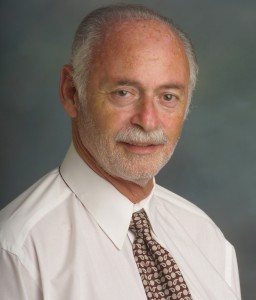 Jerome Seliger (Health Sciences, pictured at left), a professor emeritus of health sciences who taught in CSUN's College of Health and Human Development for nearly four decades, died on Jan. 3, 2021. He was 77.
Seliger served as a professor from 1976-2012, and he continued advising and teaching students after the university granted him emeritus status. He mentored many students, including Salvador Esparza, who now serves as chair of the Department of Health Sciences.
Seliger established the Jerome Seliger Student Scholarship Fund in Health Administration in CSUN's Department of Health Sciences. During his career, he also founded health services organizations Bienvenidos Children's Center in Altadena, and the Community Campus for Health and Education in San Fernando. He had served as an officer and board member of the Prostate Cancer Research Institute of Southern California since 1998.
Seliger was born in Minneapolis to Julius and Gertrude Seliger, Jewish refugees who escaped from Germany
in 1940. Their parents and most of the Seligers' extended family perished in the Holocaust. Jerome Seliger graduated from North High School in 1960 and the University of Minnesota in 1964. He later attended Southern Illinois University, where he completed a master's degree in 1967, and the University of Southern California, where he earned his doctorate in 1974.
Seliger is survived by his son, Shawn; his brother, Isaac; nieces Rachel and Melissa, and nephews Sam and Jake.
---
ALUMNI
P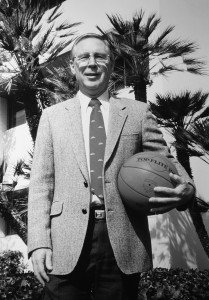 ete Cassidy '60 (Kinesiology – Physical Education, pictured at right), M.S. '69 (Kinesiology), who served 25 years as Men's Basketball head coach at CSUN and was considered a San Fernando Valley coaching icon, died on Dec. 18, 2020, in Valencia. He was 86.
After starring as a basketball and baseball student-athlete at what was then San Fernando Valley State College, Cassidy coached at Notre Dame High School in Sherman Oaks, according to a tribute in the Los Angeles Times. He returned to Valley State as a Men's Basketball assistant coach to Jerry Ball and instructor in the Department of Physical Education.
Cassidy was promoted to head coach in 1971 and helped build the Matadors into a competitive NCAA Division II team. In 1990, the program moved to Division I, and Cassidy spent the next six years trying to help the program transition. He departed the university after the 1996 season and finished with an overall record of 334-337.
CSUN inducted Cassidy into the Cal State Northridge Athletic Hall of Fame in 2004. In recent years, he supported a scholarship awarded to a senior student-athlete, in association with the San Fernando Valley chapter of the National Football Foundation and College Hall of Fame, according to the Los Angeles Times tribute.
As a coach and teacher, Cassidy inspired countless CSUN graduates to follow in his footsteps.
"He was an outstanding coach and outstanding man," said former CSUN Athletic Director Bob Hiegert '64 (Physical Education), M.A. '68 (Physical Education), who played baseball with Cassidy at Valley State. Hiegert, a longtime friend of Cassidy's, went on to become a legendary baseball coach at CSUN.
"His reach goes far. Farther than he could have imagined," said Fluke Fluker '88 (Physical Education – General Studies/Teaching Credential) who played for Cassidy at CSUN and went into teaching and coaching.
Cassidy is survived by his wife of 57 years, Sandy; sons Kevin and Michael, and daughter Erin.
Dave Kleinbart '69 (Radio-TV Production), a former director of underwriting at 88.5-FM KCSN who also had a long career as a disc jockey (DJ) at various California radio stations, died on Oct. 12, 2020, due to complications from Parkinson's disease.
Known on the air as Dave Darin, Kleinbart worked in various capacities throughout his long broadcasting career, including as a DJ at KWIZ Santa Ana, KAHI Auburn and KCRA Sacramento. He then joined CBS radio as a broadcast affiliates representative, before going to work at KCRW. In 2012, he became director of underwriting at KCSN.
His friends and former colleagues in the broadcasting world remembered Kleinbart as a great collaborator and dedicated colleague.
"I will always remain grateful to Dave for gaining two positions for me," said longtime friend Jeff March. "He hired me as his replacement at KAHI radio in Auburn in April 1972, when he took the job at KCRA. And then that autumn, he recommended me for the position at KROY, which I loved so much. I got that job only because Dave suggested me as a candidate."
Kleinbart is survived by his wife, Constance Kleinbart; their children, Sally and Jonathan, and many relatives and friends.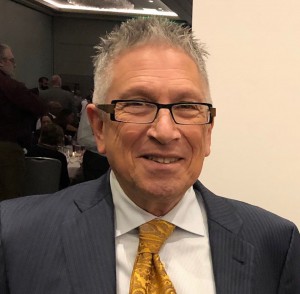 David T. Gottlieb '75 (Accounting, pictured at left), a certified public accountant and longtime finance consultant for Bay Area corporations, died on Nov. 20, 2020, at home in Napa. He was 69.
Gottlieb was a freelance practitioner providing contract CFO/controller services to a small group of companies in the Bay Area since 2009. Previously, he spent many years in public accounting and financial planning with various privately held, midsize companies, and one Fortune 50 enterprise. In recent years, he enjoyed working mainly with firms providing professional services, including a family-owned, San Francisco-based transportation company supporting social media giants in Silicon Valley. He was quite the workaholic, spending long hours perched at his desk in his home office, his Porsche mug of coffee always within reach.
Gottlieb grew up in West Los Angeles, graduating from University High School and then earning his Bachelor of Science in accounting from CSUN in 1975. He worked for Arthur Young and Co. to satisfy his public accounting requirements and received his certified public accountant certification in 1977.
He moved to the Bay Area around the year 2000, where he met and "courted" Constance Norwick. The couple tied the knot in 2003. They loved wine tasting and made many trips from Danville to Wine Country, and they finally decided to relocate to Napa in 2007.
The pair lived in the Carneros region, where they enjoyed a slightly slower pace of life and especially the open space to raise and spoil their Golden Retrievers, a very devoted cat and a flock of egg-laying hens. He also played along with his wife's full San Francisco Giants fandom, joining Constance for many home games at Oracle Park.
They traveled regularly to Giants Spring Training in Scottsdale, Ariz. Gottlieb's favorite travel destinations were desert or tropical locales, especially Palm Springs and Hawaii. His friends and family appreciated Gottlieb's infectious snicker, teasing ways and passion for fine cigars. He will be missed.
Gottlieb is survived by his wife, Constance Norwick; daughter Melissa Gottlieb; stepdaughter Olivia Herstein (Sean); two beloved granddaughters; brother Gary Gottlieb; and many cousins, close friends and colleagues.
Tracey H. Davis '88 (Journalism), an author and daughter of Sammy Davis Jr. and actress May Britt, died on Nov. 2, 2020, in Tennessee. She was 59.
At CSUN, she was also a student-athlete, playing on the Matador Women's Basketball team in the 1980s.
In her 1996 book, "Sammy Davis Jr.: My Father," Davis wrote about her experiences as the daughter of the Rat Pack entertainer, whose career kept them apart during her childhood years, according to an obituary by The Associated Press. The book, co-authored by Dolores A. Barclay, chronicled Davis' journey to reconnect with her famous father as an adult.
In October, MGM had announced plans to develop a Sammy Davis Jr. biopic based on Davis' first book.
"I am thrilled to know my father's life, both private and public, will be brought to the big screen with this team of storytellers," Davis said in a statement when the deal was announced. "He and my mother, May Britt, took on the world, choosing love and compassion over hatred and bigotry, and I am a product of that decision."
She wrote a second book, "Sammy Davis Jr.: A Personal Journey With My Father," in 2014. In her books, she explored his experiences encountering racism throughout his career.
Tracey Davis, whose own career included work in television and advertising, is survived by her four children, her mother and her brothers.
"She loved and adored her kids more than anything. Needless to say, they are all shocked and devastated by the loss of their mother, as are Tracey's mother, May Britt Ringquist, and her brothers, Mark and Jeff," Davis' ex-husband, Guy Garner, told The Associated Press.
---
Please submit tributes and notes for future publication to magazine@csun.edu.